A Towering Latin American Voice for Justice…Finally Accessible to English-Speaking Readers in a New Collection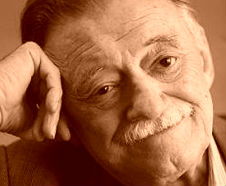 Lines would stretch for blocks when he spoke, performed or even signed his books… students carried his words in their backpacks and sprayed them on public walls… he was besieged by autograph seekers whether eating with friends at a local cafe, attending a mass demonstration, or struggling to get to a wedding on time… his work was set to music by more than 40 songwriters…he received dozens of major awards both for his writing and for his work on behalf of freedom and against torture—and when Mario Benedetti (1920-2009) died, a nation and a continent grieved. Schools were closed so the children could join the crowds in the streets for his funeral. Benedetti's honors included the internationally prestigious Reina Sofía Prize (Spain), the National Prize for Intellectual Achievement (Uruguay), the Pablo Neruda and Gabriela Mistral medals (both from Chile), and even Amnesty International's Golden Flame award, among many others.
 Yet, to most readers outside Latin America, his name is not yet familiar.
Benedetti was one of the strongest voices against dictatorship and one of the great 20th-century literary lights in his native Uruguay. And now, for the first time, an American translator has prepared a major collection of his poetry for the US with extensive input from Benedetti himself—with the goal of approximating as closely as possible, the rhythms, tone, oral register and flavor of the Spanish-language originals.
Witness: The Selected Poems of Mario Benedetti
, translated by Louise B. Popkin, with an introduction by Margaret Randall—herself a well-known poet and activist—is the only collection of his poems prepared for the English-speaking world that had Benedetti's active support.
The texts, organized by their original publication history in Spanish, span Benedetti's entire seven-decade career and 30 separate volumes of poetry. The theme of social justice runs throughout, as does the sense that poetry is a people's art that should be easy for ordinary people to grasp—better to be scrawled on a highway overpass than to be locked in an ivory tower. funeral after funeral they came and went clinging to the hands of the survivors and so early on started learning about knocks at the door knots in the throat how they'd have to not cry be the outcasts at school —a stanza from "Childhoods" by Mario Benedetti, as translated by Louise B. Popkin However, Benedetti's poetry is also about feelings.  As Popkin notes, "the more introspective Benedetti bore eloquent, honest witness to his inner struggles, which are also ours. He was a committed writer in the fullest sense of the word: at his most political, he always spoke from his heart, as well as his intellect; at his most introspective, he was never purely self-referential."
Popkin, a widely published translator, and close friend of Benedetti's, began this anthology of 134 texts spanning Benedetti's entire seven-decade career in close collaboration with the poet. As the only translator of Benedetti's poetry into English who worked directly with him, she has captured their meanings and his voice in language that faithfully approximates the original Spanish.